The Internet exists to make sharing easy, and very often that is a good thing. But before you share, you should be aware of where you are sending your family and friends. If there are links to click on the thing you are sharing, you should click them first, so you know where they go.
A friend of mine just shared a security video montage showing all kinds of nice things that were accidentally caught on security camera footage.
Does that make you feel all warm and fuzzy inside?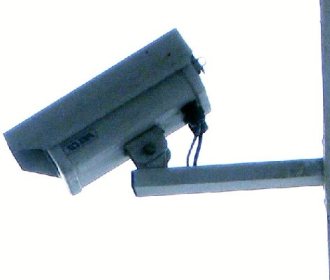 Not me.
Me, well, it makes me feel very uncomfortable. A little bit creepy. Knowing that the world is filled with security cameras recording our every move.  Big brother is watching you. (Now would be a very good time to read or re-read George Orwell's classic novel, Nineteen Eight Four")
Security cameras are deliberately placed as inconspicuously as possible.  The law requires signs posted telling us they are there, but they are usually pretty inconspicuous too.   The idea, of course, is to catch crooks in the act as they rob the store or paint the graffiti or break the window.  If the crook knows its there, they would very likely put the camera out of commission. And, naturally, security cameras only catch stupid crooks.
But security cameras also show ordinary people going about our ordinary lives.
Before a professional photographer can publish photos of models, or even ordinary people walking down the street they need to get permission from the people they are photographing. The model must sign a release form. Even newspapers get permission from their subjects. Without it they can face legal challenges. Because people are entitled to a reasonable expectation of privacy.
If I rob your store, it's a different situation. I've broken the law, and my reasonable expectation of privacy doesn't extend to the store's security video. So the video can be used by law enforcement to identify me and bring me to justice.
But if my boyfriend kisses me on a park bench, what right does some guy with a security video have to put that moment of casual intimacy into a film?
Do you think any of the people in the video gave permission?
Do you know what a video camera looks like? There are many different kinds.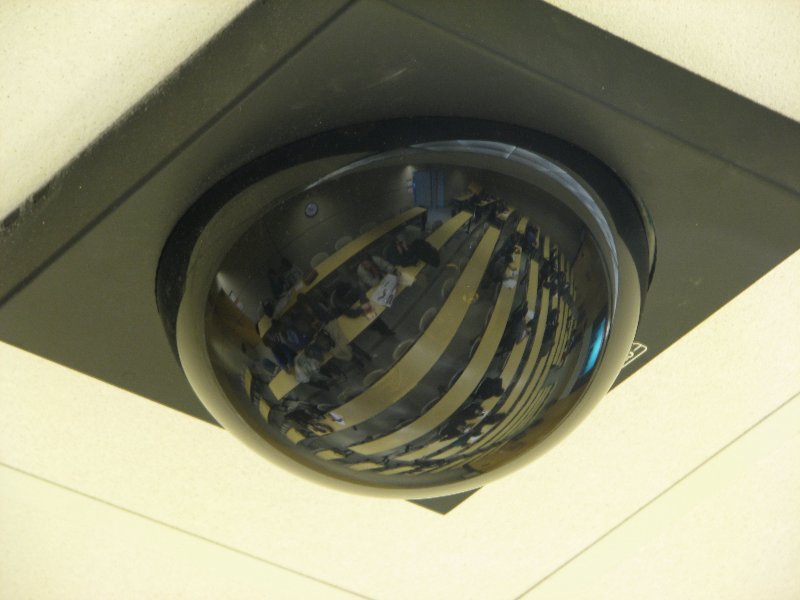 Are you aware of the cameras pointed at you in so many places? Anonymous cameras we often don't even see.  Cameras that secretly record us at work or play.  Walking down the street, buying gas, paying a untility bill.
And who is behind these cameras?
Who is recording you as you walk your toddler past the camera?  Who knows? I don't.
If we don't know who they are, how can we know what they do with the video? Who is watching the watchers? After the video is made, do they get rid of it if nothing untoward happened? Or is the footage being used in different ways… as the film in this video so clearly was. People had to pore over an awful lot of security video to discover the bits that have been edited together to make this film.
So is it okay if they make a nice "feel good" short film that shows all the nice things unsuspecting people were caught doing on "security video"?
The only credit at the end of the video is for a website called Love Everybody. So I looked there, and although it has a page of videos, this one is not displayed. Very probably because it was made without the permission of the subjects, and maybe even because using the song for the soundtrack is copyright infringement, which would result in a DMCA copyright takedown notice.
Why is this particular video floating around on Facebook?
Well, if you click one of the links, it takes you to the person who posted it, the person who is using this video. This person doesn't have any problem with using a video made without the permission of the people in it. Or to copyright infringement. Because this person has no qualms at all about getting my friend to send her family and friends on Facebook to his real reason for posting the video. He is earning up to $237 Per Day because he's getting her to work for him for free.
Every time this video is shared, it sends the unsuspecting to his ads: "FREE VIDEO! Discover How I Earn Up to $237 Per Day from Home Using Just My Facebook Account…"

Whenever you share anything on the Internet, even on Facebook, you should consider whether you have been fooled into selling your friends eyeballs.
---
Update: I decided to check YouTube for "security video" and found the film there. Turns out that this is actually a Coke commercial (although the facebook user who is using it to drive customers into his lair seems to have done away with the advertising logos).
Presumably Coke did in fact shoot this video to make it appear to be security video. If they didn't, and you happen to be the guy dancing in the aisle but have never signed a release, you can probably sue the company. If you're Coke you can certainly squash the guy who is using your film to drive business his way on Facebook.
There are, alas, an awful lot of security videos making it to YouTube.